Description
December 21st 12-4pm (Sign up for a start time, there are various stations to make your way through and we don't want anyone to feel rushed)
Cost: $50/kid- parents are free! This includes cookie baking/decorating, 2 AliKat craft gifts, 2 Bath Bakery gifts.  All ages are welcome as I trust you as parents to know what your children would enjoy doing!   Sign up and carpool with a friend to receive a special gift!
ORDER GIFT BOXES AND CUSTOM GIFTS HERE
BMK, The Bath Bakery and AliKat Art have teamed up for a Holiday gift making extravaganze at BMK and make sure you go home well stocked with personalized gifts perfect for grandparents, customized soaking bath salts, lotions and more PLUS christmas cooking baking and decorating! You and your young chef will get to roll out and pick your own cookie designs, bake them and decorate- without having to do any cleaning!  While your cookies bake and cool, simply move onto one of the other activities!  This is a great class to sign up with friends and drive out together to make a day of it!
This is truly a great deal as we wanted to offer this as gift from us to our amazing community who has bee so incredibly supportive these past 6 months.
Parking: We share a driveway with the fantastic neighbors who made BMK 2.0 a possibility, so please respect their space by not blocking their driveway.  The playground equipment on the other side of the trees down at the turnaround is on their property so we ask that kids don't play on it.  It works best for people to pull down the drive and go around the circle turnaround and park facing up the hill so that you don't block those coming and going.  Carpooling is always ideal!
BONUS! Get your holiday shopping done at the same time at the Project Pantry Shoppe here at BMK! (Photos will be coming soon!) 
If you would like to stop by and shop at the Project Pantry or order macarons without doing the class- simply let me know!
We will have our 100% locally made gift boxes available- these make great gifts and you can feel good knowing you are paying for quality and not mark up pricing.
Bath Bakery Soap Hutch will be stocked with holiday favorites- the best stocking stuffers and gifts to have on hand for that moment when you realize that you forgot to buy something for Great Aunt Carol.  Her soaps are a work of art and her kid favorite bath bombs are, shall I say… da bomb? Yup- I said it, I'm going to keep it and we all are going to roll our eyes together.
AliKat Art will have some of her uniquely awesome holiday day decor available for purchase. If you would like any customized art/signs/ holiday decor, let me know and I'll put you in touch with Kat!  She prices all of her items to match anything store bought so that buying local doesn't mean having to spend double.  You can preorder signs like her double sided Holiday signs below for just $10- I personally love being able to just flip a sign to cover two holidays!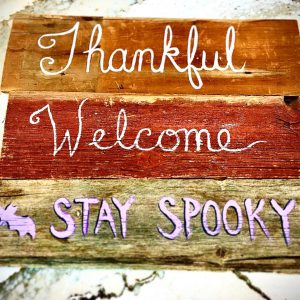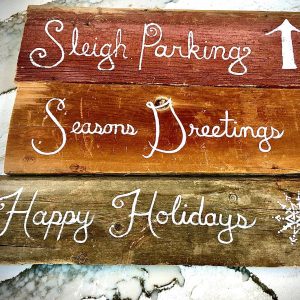 You also can browse her portfolio of work including photos of the murals she did for my girl's bedrooms.  Bedroom murals make awesome gifts for kids- she can do anything from full room to smaller designs to make your kid feel like his/her room is uniquely their own! UPDATE: Kids will get to choose to make 2 of the following gifts: Personalized ornaments, barn board painting and Christmas gnomes.  There is a variation for younger and older kids (younger kids can do hand prints which makes for perfect grandparent gifts). 

You can preorder BMK signature french macarons ( they come in a variety pack of flavors-you choose flavors day of)  and colors and are GF) that can go straight to your freezer and pulled out and defrosted when needed.  Flavors include but aren't limited to: s'mores, toasted coconut, strawberry lemonade, orange creamsicle, salted caramel, fresh lemon basil, chocolate peppermint, candy cane, root beer float, vanilla, and more.  BMK macarons are made with real buttercream and almond flour.  Contact me to order, all orders must be placed by December 14th. Macarons are priced to match all local bakeries and stores in order to be fair to them- $2/macaron or $22/dozen.