Description
A big thank you from me to you for sharing this link with others!
NEW THIS YEAR! Gift Boxes made from Iowa barn board plus custom soap, art and baked goods.  Click HERE to order.
Gifts for Adults when socks and yankee candles won't cut it:
BMK Date Night Series: With 3 nights to choose from and 3 different themes each night, you can have something to look forward to all throughout January and February- the two most beloved weather months of the year.  What makes this class gift worthy is that if you gift it to your significant other- you also benefit as it's a couples night out.  It's also a fantastic deal as for $40/person you get a full meal, free soap products from The Bath Bakery, Olive Oil and Vinegar tasting, cooking class and live story telling.  PLUS if you enjoy telling stories- you can contact me to be selected as one of the story tellers and come to the class for free! The themes are: Parenthood (perfect for couples expecting their first child) January 11th, Marriage- stories that could be summed up as a Far Side comic- January 24th, and Dating– the best worst dating stories- February 7th.  Caravan out with other couples and enjoy an evening that is unique, fun and a break from the same old date night routine.
Motherhood and Macarons-February 29th
Cost: $45/person         Includes: Cooking Class, Olive Oil and Vinegar tasting, story telling and a free Bath Bakery soap and discount on all Project Pantry art items.
This class is all about celebrating the beautiful, joy filled hell of motherhood that often is never talked about.  It's a place for moms to come together and have honest conversations about what being a mom means.  In addition to learning how to make gorgeous french macarons, we will also have a time for story telling so if you have a great story about being a mom- it can be funny or heartbreaking- please feel free to share it!  This class exists to celebrate vulnerability, honesty and the chance to meet new friends and build up the village that is 100% needed to raise a family.  In the age of mom shaming on social media, let this be an antidote.  Plus you will learn how to make gorgeous macarons. Come with friends or come alone- treat yourself to a much needed break! *Macaron's are gluten free and can be dairy free as well.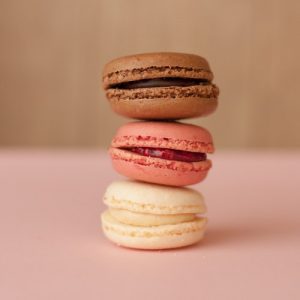 Click to register for Motherhood and Macarons
GIFTS FOR KIDS- because the cost of your time cleaning up toys is worth more than the 5 minutes of them playing with it.  
BMK Holiday Cookie and Gift Making Class- plus Shop Local Event – December 21st  
Come with a friend to receive a special treat for carpooling plus everyone who registers will be part of a drawing for a free BMK gift box ($60 value)
This is a kill a flock of birds with one stone type of class.  However, no birds will be harmed during this class- and in fact chickens will be available to be picked up and petted.  You will be baking and decorating cookies, making bath product gifts and art and craft gifts plus get to stock up on locally made gifts and stocking stuffers. When someone compliments you on one of your purchases from our Project Pantry Shoppe, you get to say that not only is it locally made, but you purchased it directly from the maker- it's a win-win-win situation. This is the first of hopefully a yearly event where you can come with your kids and get excited about Christmas or whatever holiday, if any, you celebrate- all without having to do any prep or clean up. This class pays for itself with all of the goodies you go home with!  *This is a move at your own pace class*
There will be 3 stations to rotate through:
BMK: Becky will have cookie dough (sugar and gingerbread) ready to be rolled out, cut, baked and decorated- all the fun and zero stress about mess! You also can preorder BMK's signature french macarons (gluten free) and go home with a variety of flavors in containers that can go right into the freezer to be kept for when you have guest that you really want to impress.  Or eat them on the way home- either works.  Flavors include but are not limited to: s'mores, toasted coconut, strawberry lemonade, orange creamsicle, salted caramel, fresh lemon basil, chocolate peppermint, candy cane, root beer float, vanilla, champagne and more.
The Bath Bakery: Jess will be teaching you how to make your own custom scented lotions and soaking bath salts which make perfect gifts! Adorable packaging and labels make this a pretty fun station all on its own.  But- it isn't Jess's style to leave it at just that.  She will also have a fantastic selection of soaps and bath products that make not only perfect stocking stuffers but also are the ideal gifts to stock up on for that "oh crap we didn't get Karen from Accounting a gift again" moment.  Plus she has bath bombs that kids do the classic "OMG" freak out over and will make you a pretty awesome parent.
AliKat Art: Kat will be leading the "awww" gifts that you want to do when you see them pop up on your FB feed but never get around doing.  These gifts will keep grandparents happy for a long time or will make for a perfect holiday decoration to pull out each year and feel your heart strings get tugged ever so slightly.  There will be options for more advanced kids and those who aren't quite old enough to care about detailed painting/crafting.  Best yet, Kat will have a great selection of her own amazing holiday themed art and decor that beat the prices at your big named stores while being handmade and good quality.  So whether for your house or as a gift- you feel good about your purchase.  You can also order customized signs/decor by contacting me before December 7th. Another great gift for kids is to have Kat paint a mural in their rooms- it can be small or an entire room.  She did two full room murals for a fraction of what I was quoted by others- it was one of the best purchases of art that I have ever made.
BMK Holiday Cookie and Gift Making Class and Shop Local Event- Parents & Kids
Kid Nailed It! and Gingerbread House Decorating Competition- December 29th 
This class is for intermediate/advanced kids and it's going to be a blast.  They will work in teams (kids can sign up as a team of 4 or 5) and complete a Nailed It! challenge while also working on their gingerbread house masterpiece.  We will play some fun games, laugh a lot, eat sugar and just have a great time.  Parents/siblings can come at 4pm to help judge the gingerbread houses.  This class is for kids who understand basic measurements and truly enjoy baking and being creative.  The gingerbread houses will not be kits, but instead the teams will have to build their own structures and come up with a design theme.  Rome may not have been build in a day- but these gingerbread houses will be.