Description
LIMITED TIME OFFER!!!! Great Father's Day Gift! 
Purchase minimum of $30 of soap (or pick up that total- if you are picking up for friends or neighbors) and then select a pick up time of Thursday, Friday or Saturday and enjoy 30min of play time in the adventure playground (zip line, ninja course, rock climbing walls, games, fort building, swings, trails, *boots required for playing down by the creek)  and visit with the chickens and goats! All profits from soaps are being donated to organizations that support social justice.  I will greet you and show you how to access the woods, you can pick up chickens and pet goats through the fence and see the baby chicks. I will not be supervising any play as I am busy working inside so I do ask that parents take on that responsibility. At the end of your 30ish minutes, I will get you your soaps (I don't want them to melt so I keep them inside until you are ready to leave.  Bathrooms will only be available for emergencies so please plan accordingly. Only 4 families will be allowed to pick up during the same time slot to limit numbers- so if you have families who you would like to come out together with- feel free to both sign up! Masks are optional and always supported here if you find yourself within social distance spaces of others. I fully disinfect the surfaces after each day.  In keeping with my intent of full transparency in how I run BMK- this is all donated time on my end including my time making the soaps- so I am offering this as a gift back to the community and ask that you respect that by not leaving trash in the woods and treating animals and equipment with respect. Scroll down for info on soaps and visit my FB page or Instagram for pic of the property! In case of bad weather, I will schedule make up farm visit dates, but please still feel free to come pick up soaps.
ARRIVAL INFO: pull down the hill to the white house, turn around in the driveway and park facing up the hill- please do not block the neighbor's driveway at the top of the hill.  Also, the trampoline and play equipment is not on my property so please don't let kids pass the rock barrier.  My very friendly dogs may be out front and greet you with a chorus of barks.  
June Soaps
Each bundle contains 2-3 soaps and a free package of bath salts for you to gift to someone as part of the BMK Pay Forward Kindness Initiative.  Profits will be donated to both local and national organizations that support social justice and the black lives matter movement.  I am collecting a list of organizations so please feel free to message me with recommendations. I will be matching the donations personally as well.
Soaps can be scheduled to be picked at BMK at a time that works for your schedule.  (4139 Crosheck Rd. NE, Solon, IA 52333). Please email or text me to arrange pick up- in the email include what soaps you ordered- thank you! 
Bath Soaks: There will be a variety of scents to choose from at pick up.  You are simply asked to gift the bath soaks to someone who would benefit from a bit of unexpected kindness.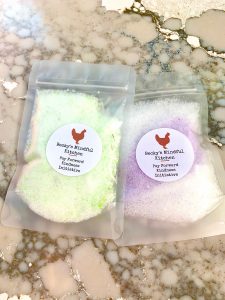 Soaps
Macaron Soaps: Great for guest bathrooms (yes, we will someday have guests again) or as a fun little gift.  Kids also love these for individual soaps in shared bathrooms. Each bundle contains a variety of 5 soaps. $5/bundle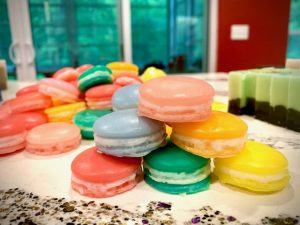 Floral bundle: each bundle contains 3 soaps with embedded organic dried flowers.  Each bundle is a variety pack with Rose, Lavender, Chamomile, Calendula and Lemongrass.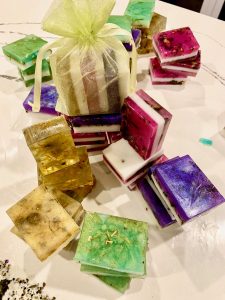 Applewood Smoked Salt and Brown Sugar and Charcoal Driftwood– These are great for Father's Day!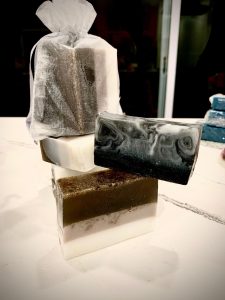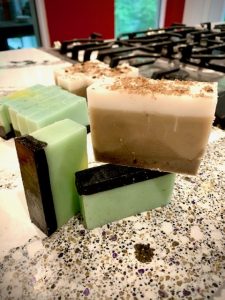 Hearts: This bundle contains one that is Sandalwood Vanilla and the other is Lavender and Lily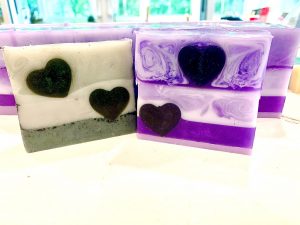 Ocean/Seashore: This bundle contains one moonscape soap and one ocean soap- both are a special blend of multiple fragrances carefully selected to create a refreshing and light scent.