Description
Give the gift of wonderment and joy this year…
Children need to be kids now more than ever and here at BMK they get to play, laugh and you get to breathe a sigh of relief knowing you have not only provided them with a birthday party full of life long memories but did so during a time with so many have had to go without parties due to COVID concerns.  Let your heart be filled with happiness as you watch their feet race across the bridge into a magical place were Whimsy and Adventure reign.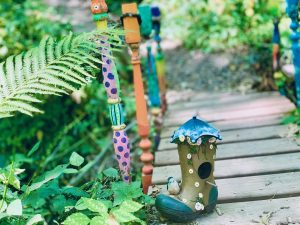 The sound of laughter blends seamlessly with the chatter of squirrels and songs of birds that call the timber home and is all yours for the duration of the party.  These party packages include complete rental of the BMK woods with me being the only person you will see who is not part of your group. I have been setting the standard for COVID safe events and continue to do so with these party options.  After every event, I throughly disinfect all surfaces outside and inside the treehouse and all play equipment and surfaces. You won't find this exclusivity anywhere else plus you are welcome to combine the party with friends- only one person needs to register.  I request a 10 family maximum for parties and 25 person maximum ( for larger groups, please contact me first). 
Please look through the pics but know that there are many more fun things in the woods that aren't pictured along with new games and activities in the treehouse.
HOW TO BOOK: After reading through the options below, contact me to schedule a date/time and then return to this page to register and pay.  If you wish to pay via Venmo, you may do so, just communicate that to me in the email. [email protected]  Online parties are still available, for more information click HERE
CANCELLATION POLICY: If there are heavy rains or storms, you are able to cancel day of the party and reschedule for a future date.  If you cancel due to weather and do not wish to reschedule, there is a $50 non refundable deposit.  There will not be any refunds within 2 weeks of the party.  I never have had to have a policy before now but I had one too many people simply not show up or pay last year and I am not in the position to afford to have that continue to happen sadly. WAIVER HERE
ARRIVAL: Please do not arrive more than 10min before scheduled time or if you do, hang out in your car until I come out to greet you.  During your party time, you have the property entirely to yourself so I need to make sure I have my children inside before party goers head into the woods.  I do require masks on adults and kids upon arrival where I will do temp checks and provide hand sanitizer.  This is just as much for your own safety and to do my part in not contributing to the spread COVID. Once in the woods for your party, you can dictate mask rules but if I am helping with farm animals or anything with the party, I do require masks.
Cars can drive down the hill to the white house and then circle around to park facing up the hill.  Please be mindful that the playground equipment and trampoline is not on BMK property and please do not block the shared driveway.  We have spent the last 6 months spending every extra moment and investing everything financially into pivoting the business to stay afloat during this time AND provide the community with a safe option for parties and joy during the pandemic- please respect the property and ask the children to do the same.  Cost reflects the increase time involved in cleaning, safety risk of allowing others on our property, and the constant improvements and repairs required along with material costs.   Becky's Mindful Kitchen shows up in most GPS apps, 4139 Crosheck Rd NE, Solon, IA 52333
Parties can be scheduled on weekdays and weekends. Bathroom is available inside BMK.  There is a shoe disinfectant mat to step on and masks are required when inside the school for bathroom use. Mushrooms are painted on benches and stumps around the woods that are spaced 6ft apart to allow for mask free time depending on your safety needs.
Option 1: 2.5 hour rental of woods and treehouse.  Bring your own food/drinks.  You will get the treehouse and adventure playground in the woods to yourself for 2.5 hours.  You are welcome to bring food and drinks.  I will provide a trash bag and ask that you clean up any trash created.  There is the new fairytale treehouse, 1 zip line, ninja course, slack line, stick fort building area, rock balancing, swings, hammocks, tetherball, horse shoes, trails and more.  You can also pet goats and chickens through the fence and pick up any chickens who wander across your path on the way to the woods! Plus gift bags of bath fizzies for up to 10 guests and a variety of BMK treats.   $350/2.5hr
Option 2: 3 hour rental of woods and treehouse with 30 min of interaction with the goats and chickens inside the pasture.   Masks are required during this time.  Make sure to have cameras ready for memorable photos with the goats and chickens.  Kids can pick up both chickens and goats  and feed them treats! I will introduce everyone to the animals, answer questions and supervise the entire 30 min.   There are balance beams to play on with the goats and rocks to climb on. You also have the woods and tree house to yourselves for the entire time and everything else included in option 1.Plus gift bags of bath fizzies for up to 10 guests and a platter of treats from the BMK bakery.  $400/3hr
Option 3: All things included in option 1 and 2 PLUS 4 hour total rental of the property and sugar cookie decorating.  20 cookies are included along with a variety of bags of icing.  $1/ extra cookie.   This truly will be a birthday to remember.  You have time to completely relax and enjoy the space while the kids play and entertain themselves.  This works great for combining parties with friends or siblings. $500/4hr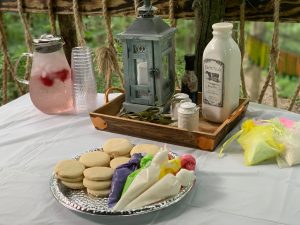 Looking to add more? Here are just a few possible additions to make your party spectacular and less work for you! 5 days notice is required for all additions. Payment is handled separately.  Email me at [email protected] to order or with questions. 
~ Bakery add ons can be to take home or serve at party.
 Cinnamon rolls: $20/dozen large $16/dozen medium Frosted- add $2
 Kid size croissants: $2 each 
 Scones: $2.50 each 
 Mini palmiers- $.50 each 
 Scottish shortbread- $1/each 
 French Macarons: $1.50/each
 Fudge (variety of flavors): $.50/square
Serve at party only:
Pizza Party: $20/ medium cheese pizza (Italian flour crust, homemade sauce and hormone free cheese) and lemonade.
Soaps: You may order custom scented soaps as fantastic party favors.  Choose from a small or large size ($3/soap vs $5/soap) and chat with Becky about how to make it perfect for your theme! Minimum order of 10 soaps. Each soap will be packaged in a cute bag as the perfect take home for all guests.
Please note that playing in the woods can result in injury.  We do our best to keep the timber healthy but cannot control for everything.  In scheduling a birthday party you are assuming responsibility for supervising children and employing common sense safety.