Come escape to the woods- where Adventure and Whimsy Reign.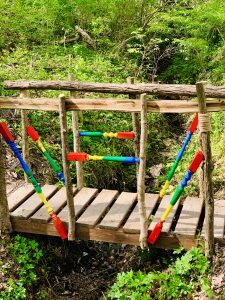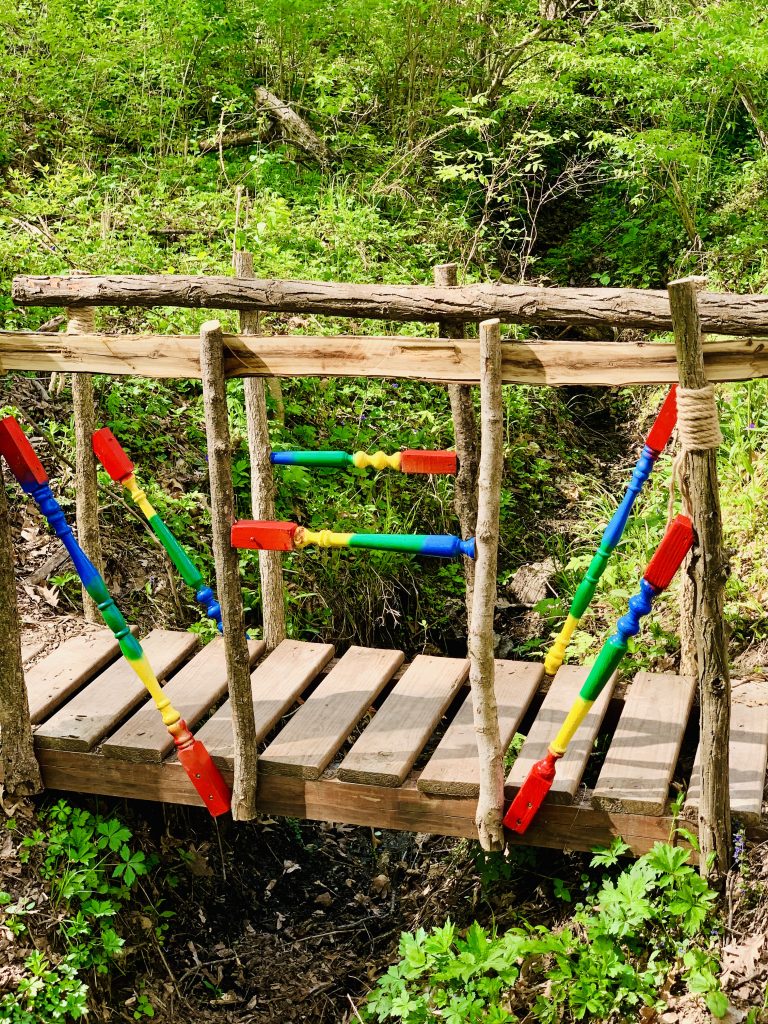 It's time to treat yourself to an exclusive getaway, disconnect from the stress of life and connect with nature, friends and family.  Covid is still part of our reality and here at BMK, Covid safety is a top priority.  Masks are required when inside using the bathroom and when interacting with me.  However, because this is YOUR adventure, you get to make your own rules based on your comfort with your group.
** Farm Visit** For those looking for a shorter visit, you can schedule a 30min farm visit.  Come play with the goats and chickens, feed them treats and create lasting memories.  I will be out with you during that time to answer questions and facilitate the best experience possible! (when we have baby goats, contact me to schedule your visit for when we are bottle feeding so you can do that as well)
What awaits you in the woods:
Zipline, ninja course, fairytale treehouse, fort building, slack line, tetherball, swings, trails, art installations, hidden treasures, wood fire pizza oven, wood sculptures and more!
Each package comes with a platter of a variety of treats from the BMK bakery. Coffee, tea, and hot chocolate is available as well.
If you want to have time with the chickens and goat during your time here, it is an extra $50 for up to 30minutes- we start with the animals when you arrive- as I will have to be with you during that time.  * it is not extra time but built into your package time.
You can purchase eggs from the happy hens at BMK for $4/dozen (please order in advance so I can have them washed and ready!).  You are also able to stop by the BMK gift shop to see what is available on your way out to the treehouse.
**Food and Drink** You are welcome to bring in any food or drink that you wish to the treehouse, just please clean up any trash afterwards.  The same clean up rule goes for the treehouse and property in general.  I simply ask that it is left in the same state as it was found.
Payment via paypal, Check/cash,  or Venmo @beckysmindfulkitchen or @becky-schmooke
Directions: Turn left at the big red barn, the first left on Crosheck and head down the driveway. BMK is located around back of the white house at the bottom of the drive.  Please note that the play equipment in the neighbor's yard is indeed the neighbor's play equipment so please do not allow your kids to go into their yard.  When you arrive, I recommend driving down and circling around to then park facing up the driveway to allow for easy exit.  Please do not block the neighbor's driveway.  Once again- BMK is accessed through the front of the home, so please do not come up to the front door, but follow the signs and path to the back. 4139 Crosheck Rd. NE, Solon, IA 52333 GOOGLE DIRECTIONS
Cancellation Policy:  Because I only offer a limited number of events, there are no cancellations within 2 weeks of the date.  If rain is forecasted, the party goes on, simply wear weather appropriate clothing and allow yourself to remember just how much fun it can be to play in the rain and embrace your inner child.  Also- the porch of treehouse is covered and the treehouse is so much fun to play in while listening to the rain.  If the rain is going to be a nonstop downpour or storming, then we can adjust the time of the event if possible and reschedule.  If anyone has been exposed to Covid- please just be kind and don't come.   I really would rather not require a deposit but instead trust that you will respect that a lot of time and money goes into making your party truly special and you will not decide to cancel without paying or just not show up.
Waiver: By booking your event, you and attendees agree to the terms in the waiver which can be found HERE
PACKAGES:
Single Family Package: plus 2 guests: $350 for 2 hours ($50 to add on time with goats and chickens)
Deluxe Family Package: 2-3 families: $550 for 2 hours ($50 to add on time with goats and chickens)
Treehouse Escape: Up to 6 adults: $525 for 3hr ($50 to add on time with goats and chickens) -contact to add on additional food to your event. Add on wood fired pizza (1 pizza per person) for $250.
Treehouse Escape: Up to 12 adults: $900 for 3hr ($50 to add on time with goats and chickens) -contact to add on additional food to your event. Contact me for pricing for larger groups of people.  Add on wood fired pizza (1 pizza per person) for $350.
Farm Visit: $50/family for 30min farm visit. 10 families max at a time.
Custom Event: contact me to create a custom event.