Description
BMK TREEHOUSE RENTALS
Special Opening Prices available through October 1st 2020 so book today! 
Where Whimsy and Adventure Reign…
Perfect for: Baby and Wedding showers, work retreats, family reunions, birthdays, girls night out…
BMK has been a leader in the area for providing Covid safe experiences without sacrificing the good stuff and has pivoted once again to provide a unique, fun and safe date night/small group experience for those looking to escape stress, anxiety and simply relax for a few hours in nature.  We have built a treehouse unlike any you have seen before- except maybe on HGTV.  It is two stories and has covered deck for dining.  You can also eat at the picnic table by the fire for the fun of camping without the hassle of setting up a tent! This fairytale treehouse has custom artwork inside creating a magical space for adults and kids alike.  With books, activities and games, you get to put away screens and experience that joy of living in the moment that comes with being on vacation.  There are books of games to play, jokes to tell, bird watching, bush craft, trivia… providing entertainment for all ages.  This is perfect for not only date night but also for a family night where you get to connect with your children and enjoy a staycation like you have never experienced before! No matter if you are with your family, your partner or a group of friends that you are socializing with during this time, you will feel the weight lift off your shoulders as you catch your first glimpse of the rock wall leading to the cedar shake roof and granite lined path up to the treehouse.  Surrounding the house is gorgeous timber and all of the staples of the BMK adventure playground: zip line, ninja course, fort building, slack line, hammocks, fairy villages, hidden sculptures and more.  And if what you are searching for is a chance for a few hours of forest sound bathing, meditation, solace and mental reset, you can rent the property out for a solo escape as well.  All of that is yours during your time here.  Soaps and BMK bakery items are available to order to enjoy during your stay or take home. CICK HERE FOR BIRTHDAY PARTIES
Masks are required upon arrival where I will do a temp check for your safety and my own.  Masks are required during any interaction with me which is minimal- I promise! Bathrooms are provided inside BMK, masks are required inside the school.  I do not teach any online or in person classes during your time here.  While I give you privacy and space, I am 100% available to assist with any needs.  Pricing is based on my time required in preparation and clean up, cost of cleaning, safety risk of having people on the property during COVID and materials, ingredients and supplies. SEE BOTTOM OF PAGE FOR IMPORTANT INFO
Payment via PayPal or Venmo @Becky-Schmooke. Email, text or call Becky to schedule.  (319) 325-3464 or [email protected]  You may gift a treehouse rental to another family/person as well.
PRIVATE TREEHOUSE WRITER/ARTIST/WORK ESCAPE RENTAL: 1-2 adults.  3hr for $200 with small platter of snacks provided.  $75/additional hour.  Need to get out of the house to get work done but don't want to go to a public place where you can't truly relax? Rent the treehouse to get work done in a idyllic setting with zero interruptions.  No wifi available which makes it perfect for those needing a break from distractions. Perfect for writers, grading papers, editing photos, journaling, reading, self care mental health reset.  Peace and quiet and focused work time is hard to come by these days and truly invaluable!  Workspace inside treehouse and on deck.
Option 1: Rental of Treehouse for adults only.  2.5hr for $350 groups up to 10- price doesn't change if less than 10.  Add on time: $100/hr- arrange additional hours with Becky when scheduling. Want to add more people? $25/additional person up to 25 people. BONUS: Chef's choice of BMK favorite treats from the selections below or you may get to be taste testers for a new item(up to $250 value)! Want a full meal? see Option 4.  Bring your own food/drinks and please clean up trash.  This includes the fire pit.  I provide wood and a lighter.  This doesn't include the play equipment but please do let me know if you touch any of the play equipment so that I can properly disinfect those as well- there won't be any extra charge, I simply need to know for safety. Parking available for 10 cars.Table outside seats 8 (a bit tight but works), there is also an additional picnic table.  Table inside fits only about 4 adults.
Option 2: 2.5hr rental of the treehouse AND adventure playground for families (up to 4 families- 25 people max) $400 total- regardless if less than 4 families. Add on time: $100/hr- arrange additional hours with Becky when scheduling. BONUS: Chef's choice of BMK favorite treats from the selections below or you may get to be taste testers for a new item(up to $250 value)!  Bring your own food and drink.  You may split your time with another family as well. Also included: time with goats at start of the rental time.  I will help supervise and provide treats to feed the animals. This includes the balance beams in the pasture, education on goat and chicken care, holding goats and chickens and lots of adorable and fun picture opportunities. Masks required during this time. Perfect for learning pods- reminder private 2.5hr camps can be scheduled for groups of 10 plus kids at $50/kid.
The following can be added onto this option when scheduling:
Pizza Party: $20/ medium cheese pizza, lemonade and sweet treats.
Option 3: 2.5hr rental of Treehouse and playground for a single family-$250 (this includes grandparents). BONUS: Chef's choice of BMK favorite treats from the selections below or you may get to be taste testers for a new item ($25 value)!  OR 1.5 hours for $150. Add on time $75/hr. Bring your own food and drink.  You can go in and play with goats and chickens upon arrival and departure (masks required with animals).  Add pizza party (pizza and lemonade and dessert) for family of 4 for $20.
Option 4: Romantic Getaway OR Double Date: 3.5 hour rental of Treehouse for 2-4 . $350 with chef's choice of snacks included.   Add a full meal: $75/person up to 8 people. BMK does close at 10pm.   This is your mini vacation without any of the hassle of packing! Bring the books you have been wanting to read, favorite games, journals or nothing at all- give the gift of experience this fall!
Menu: Currently 2 meals options are provided and will change with the season.
Option 1: Organic and locally raised chicken ballotine (deboned whole chicken stuffed with sausage and seasonal greens and rice or homemade breadcrumbs), Mediterranean roasted potatoes and veggies, fresh bread (choose between focaccia or sourdough) and fill your own French macarons.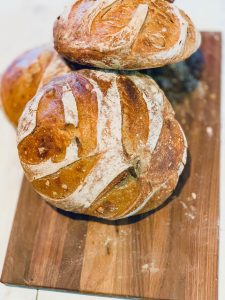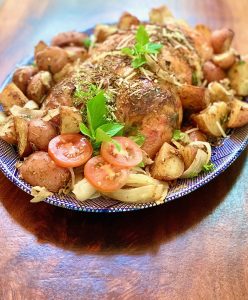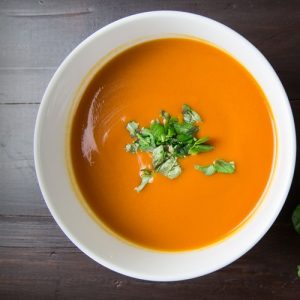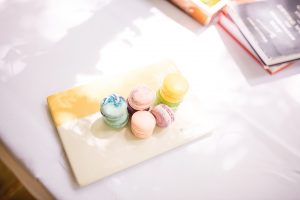 Option 2 (Vegetarian): Organic Thai carrot and peanut soup with sautéed curried tofu, homemade naan bread, Mediterranean roasted potatoes and fill your own French macarons.
Water is provided but feel free to bring drinks of choice. Recipes will are available on my website for the meals.  You may choose additional food items below. If you have something in mind for a meal that you really want or want me to surprise you with a menu- I'm always open to creative ideas!
Your meal will be waiting for you when you arrive so that after I greet and take you to the treehouse you have the rest of the time completely to yourselves.  Simply text me with any questions or issues and I'll be right up to assist but this is your time to enjoy peace and quiet without worry. Because I am setting up the meal up to the moment you arrive, please wait in your car for me to greet you. Bakery items and soaps ordered to take home will be packaged and waiting for you as well when you arrive at the Treehouse. This is your opportunity to have the ultimate mental reset.   You can explore the trails around the woods discovering the hidden sculptures and pieces of art, bathe in the sounds of nature and decorate your own wood round to take home as a reminder of your time here. Paint pens and the rounds will be set out for you on the picnic table. The treehouse is lit with lanterns at night and the mural upstairs glows and provides the perfect space to feel like a kid again.   Spend the time talking, dancing under the stars, playing favorite board or card games, and reconnecting with nature and simply just being.  You can start a fire in the rock fire pit or curl up inside on the benches when you want a change of scenery from the covered deck.  This isn't a night out to eat at a restaurant full of strangers.  This is a 100% private experience in a space that values safety above all during this time.
Bakery Options:
Bakery add ons can be to take home or serve at time of rental.
 Cinnamon rolls: $20/dozen large $16/dozen medium Frosted- add $2
 Kid size croissants: $2 each 
 Scones: $2.50 each 
 Mini palmiers- $.50 each 
 Scottish shortbread- $1/each 
 French Macarons: $1.50/each
 Fudge (variety of flavors): $.50/square
 Sliced Organic Sourdough Bread Basket with butter(will be on table when you arrive)-$6
 Charcuterie Board serves: mix of nitrate free meats and hormone free cheeses- small- $15, large- $30 plus free slices of bread
                    Large bowl of Chips and homemade Honey Chipotle Salsa (spicy but oh so good!)- $10 

HOW TO BOOK: After reading through the options below, contact me to schedule a date/time and then return to this page to register and pay.  If you wish to pay via Venmo, you may do so, just communicate that to me in the email. [email protected]  Online parties are still available, for more information click HERE
CANCELLATION POLICY: If there are heavy rains or storms, you are able to cancel day of the rental and reschedule for a future date.  If you cancel due to weather and do not wish to reschedule, there is a $50 non refundable deposit.  There will not be any refunds within 2 weeks of the rental for non weather related reasons.  I never have had to have a policy before now but I had one too many people simply not show up or pay last year and I am not in the position to afford to have that continue to happen sadly.
ARRIVAL: Please do not arrive more than 10min before scheduled time or if you do, hang out in your car until I come out to greet you.  During your time, you have the property entirely to yourself so I need to make sure I have my own children inside.  I do require masks on adults and kids upon arrival where I will do temp checks and provide hand sanitizer.  This is just as much for your own safety and to do my part in not contributing to the spread COVID. Once in the woods, you can dictate mask rules but if I am helping with farm animals or anything with the party, I do require masks.
Cars can drive down the hill to the white house and then circle around to park facing up the hill.  Please be mindful that the playground equipment and trampoline is not on BMK property and please do not block the shared driveway.  We have spent the last 6 months spending every extra moment and investing everything financially into pivoting the business to stay afloat during this time AND provide the community with a safe option for parties and joy during the pandemic- please respect the property and ask the children to do the same.  Cost reflects the increase time involved in cleaning, safety risk of allowing others on our property, and the constant improvements and repairs required along with material costs.   Becky's Mindful Kitchen shows up in most GPS apps, 4139 Crosheck Rd NE, Solon, IA 52333