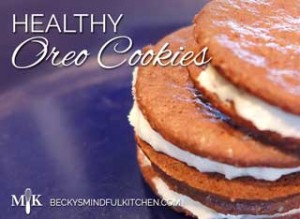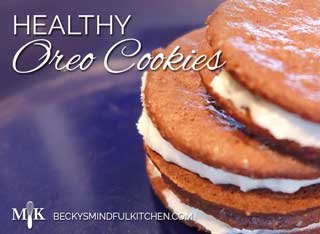 There are endless ways to eat an Oreo cookie, but no matter your style, make sure it is a cookie full of real ingredients instead of processed ones. This recipe can be used to make peanut butter filled Oreos, peppermint Oreos, double stuffed Oreos and more. Make sure to keep an extra dozen hidden in the freezer because they will become a fan favorite after the first batch.
Healthy Oreo Cookies
2014-08-04 06:26:36
Cookie
1 to 1 1/2 cups flour (unbleached all purpose, spelt flour, organic whole wheat)
1/4 cup cocoa powder
1/2 cup sugar (organic cane sugar, sucanat, honey, maple syrup)
pinch of salt
large pinch of baking soda
1 tsp vanilla
4T butter (melted)
splash of milk (whole milk from grass fed cows if possible)
Filling
3/4 -1 cup Powdered Sugar (organic or swerve brand of sugar free)
1tsp vanilla
4T butter
Instructions
Preheat oven to 375
Cookie
Combine the dry and wet ingredients and form into a dough. Place in the fridge for 15-30 minutes. Roll out the dough in two batches between two pieces of parchment paper. Roll out into a thin sheet. Using a circular mold or cookie cutter, cut the dough and remove the excess dough to be rolled out again. Transfer parchment paper onto a cookie sheet and bake for 10 minutes. Repeat with the rest of the dough.
Let cool completely.
Filling
In a small food processor, mix together the sugar, vanilla and butter.
Place filling between two cookies and store in the fridge.
Becky's Mindful Kitchen http://beckysmindfulkitchen.com/blog/