This weekend was all about getting creative with leftovers. And while most of you don't have any left, and I apologize for the delay in getting this posted, sweet potato gnocchi is a great recipe to have on hand for the next time you have sweet potatoes hanging out in the kitchen!
Last week I got up early before work to make some yogurt. However, as I went to add in my 1/2 cup of reserved yogurt from the last batch, I realized that I had eaten it the night before. Not a problem though for that yogurt instead became ricotta cheese with just the addition of lemon juice and a quick strain through the cheese cloth. I was planning on making twice baked sweet potatoes for Thanksgiving anyway with whole milk mozzarella cheese, red peppers and ricotta cheese so it worked out perfectly. It also worked out perfectly as those twice baked potato leftovers became gnocchi. Gnocchi is incredibly easy to make and a great way to get the goodness of the sweet potato into your diet. I can't give you an exact recipe as I was using leftovers for the base, but the great thing about gnocchi is that it is hard to screw up. The same goes for the brown butter sauce. Butter, sage and balsamic vinegar…can't go wrong there! I will be posting about my twice baked sweet potatoes along with the nutritional benefits of sweet potatoes later this month!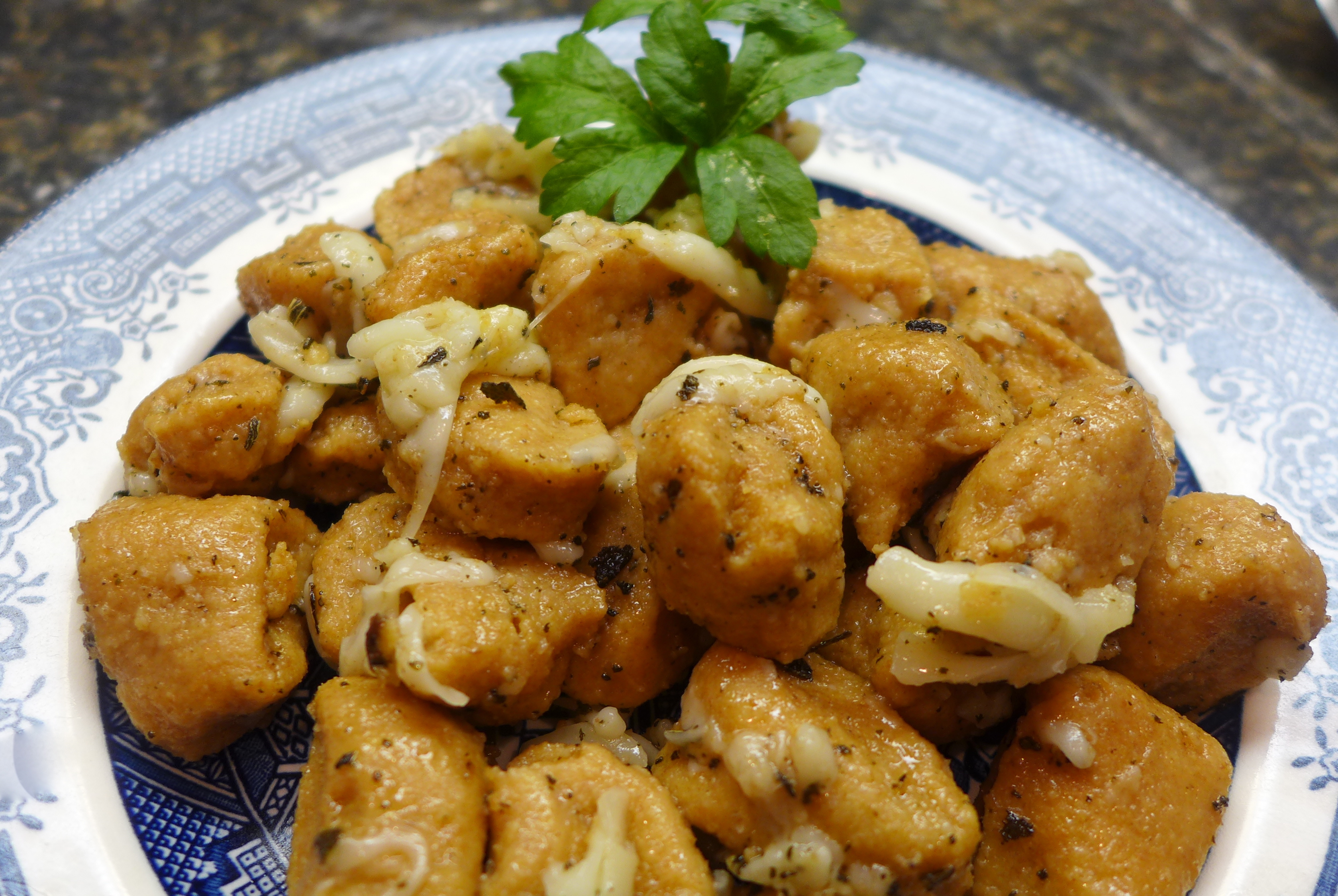 Sweet Potato Gnocchi with Brown Butter Sage Sauce
Delicious way to enjoy a sweet potato!
Ingredients
Sweet Potatoes cooked and mashed

Flour of your choice

I use spelt flour for most of my cooking instead of whole wheat

1

egg

unrefined sea salt

ricotta cheese

optional

mozzarella cheese

optional

herbs/spices

optional

For Brown Butter Sage Sauce

butter

pastured if available

a few Tbs dried sage

a few Tbs balsamic vinegar
Instructions
Combine together everything but the flour in a bowl or food processor (use dough blade if using food processor)

Add in flour until it becomes a workable dough. Meaning that you can form it with your hands into a long rope.

Using a knife cut the rope into the size of gnocchi that you want. You can reference the picture above for how large I made mine.

Drop into boiling salted water and cook for 3-5 minutes ( I pull mine out after 3 minutes usually)

I suggest salting the gnocchi afterwards with coarse unrefined sea salt.

For the Sauce

melt butter ( it all depends on how much you want to make) and sage in a pan on low-medium heat until the butter just starts to brown. Add in a few splashes of balsamic vinegar and pour over the gnocchi. I grated whole milk mozzarella on top as well. Season to taste and enjoy!