Pumpkin carving time is upon us and luckily my girls don't have high standards or expectations for elaborate designs as my carving skills are elementary at best. This year we even decided to let them design the faces and do some of the carving.
My one requirement each year is that the seeds are saved for roasting for that is my favorite part of the pumpkin carving ritual. Instead of the standard 'sprinkle with salt and roast' technique, I decided to add a bit of spice to the seeds and roast them with grassfed butter. The result was the most delicious pumpkin seeds I have ever tasted. As my husband pointed out, they almost tasted just like popcorn. A low carb, healthy popcorn. I am very happy that I got a picture of them when I did since the bowl did not last long. Buttered Spiced Roasted Pumpkin Seeds are now on my must have snack list.
As fall settles in and family starts coming into town for various holidays, plan ahead and schedule a private cooking class for everyone. I have spots still available next month- it's a great way to bond with family, cook and not have to do the dishes! So if you are in the Iowa City, Cedar Rapids, North Liberty, Coralville area give me a call or email me.
Happy Pumpkin Carving!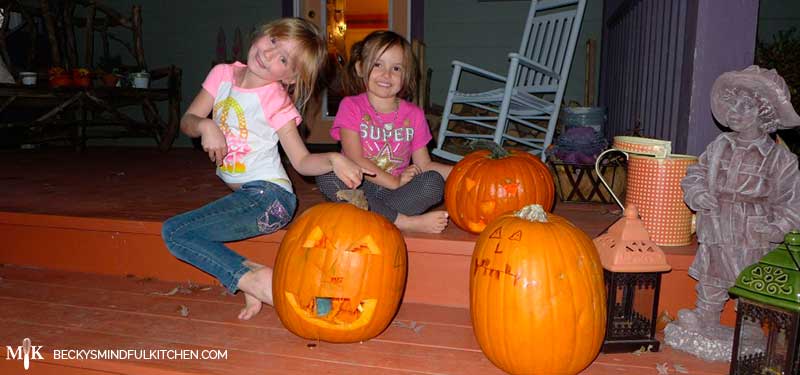 Buttered Spiced Roasted Pumpkin Seeds
Ingredients
Rinsed and patted dry pumpkin seeds

Cumin

Smoked Paprika

Chili Powdered

Unrefined Sea Salt

A few tablespoons Grass-Fed Butter melted or Butter Olive Oil
Instructions
Preheat oven or toaster oven to 375

Place the seeds in a bowl and sprinkle in the spices in equal amounts- add more salt though.

Stir in the butter until everything is well coated.

Roasted until the seeds are crunchy and add more salt if necessary and sprinkle smoked paprika on top before serving.

Enjoy!