The star of the late fall garden harvest is the winter squash and this recipe is a perfect way to incorporate it as either a side or main dish.
Stuffed acorn squash is easy, delicious and a great way to incorporate vegetables into the meal. Feel free to adjust this recipe with what you have on hand in the kitchen and don't feel like any specific ingredient is essential. Never give up on a recipe just because you are missing an ingredient or two. I always tell my clients and those in my classes to never follow recipes. And my mission as an instructor is to help you get to the point that you can freestyle cook and bake. I will help you get to the point that you can adjust herbs and spices, measurements and swap ingredients with ease. New recipes are developed everyday simply because of someone missing an ingredient required in a different recipe. So experiment and have fun.
This recipe features Wild Mushroom and Sage Olive Oil from Harvest Oil & Vinegar. I hope to see you in a cooking class soon!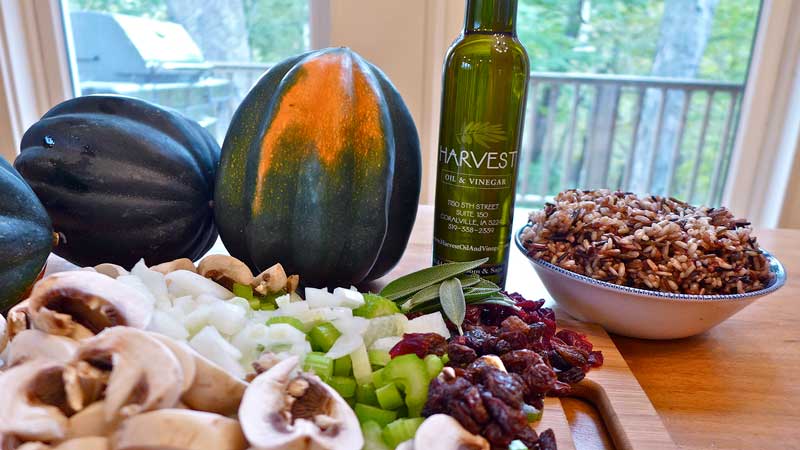 Mushroom and Sage Stuffed Acorn Squash
Ingredients
Acorn Squash

halved and seeds scooped out

Wild Rice

Mushrooms diced

Onions diced

Celery chopped

garlic minced

Cranberries

Walnuts/Pecans

Wild Mushroom and Sage Olive Oil

or extra virgin olive oil

Truffle Oil

Fresh or Dried Sage chopped

Fresh or Dried Rosemary chopped

Unrefined Sea Salt

Fresh Pepper
Optional
Ground pork or

Italian sausage

Grated Cheese
Instructions
Preheat oven to 400 degrees.

Bake squash halves until you can easily slide a fork into the squash.

Remove and set aside.

Meanwhile, prepare the stuffing. You can cook the rice ahead of time or simply add more vegetables and omit the rice. I sauteed the onions first with the sage and mushroom olive oil.

Then add in the rest of the ingredients, saving the cranberries for last.

Mix in the rice and season to taste with the truffle oil. The amount of herbs and vegetables is up to you.

Add in cooked ground pork or sausage and add stuffing to the halved squashes.

Sprinkle with cheese and bake for another 10-15 minutes until cheese is melted.

Enjoy!