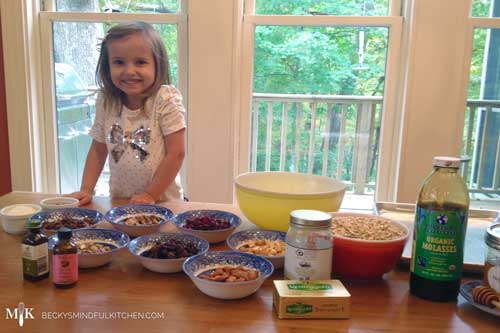 You won't find cereal boxes decorating the shelves of my pantry. The reason being is that extruded grains do not count as a "Real Food" in my book. Here are a few articles with links to sources that explain what extruded grains are: Something You've Never Been Told About Breakfast Cereals, Nourishing Our Children. The fact is, cereal grains don't just magic themselves into those pretty shapes. They are a very processed food and one that you can do without. My Breakfast Freezer Meals Cooking Class will provide a lot of simple, easy and healthy options of breakfast meals that can be made in advance.
But what about those cereals that seem unprocessed? Granola for one can seem to be a healthy option at the store. The truth about store bought granola is that the types of sugars and oils used are refined and not helping you out one bit. It is also overpriced for the lack of quality ingredients. You are much better off making your own granola, it is easy, fun and the varieties are endless and you get to have complete control over what goes into your breakfast cereal.
Vivi, my four year old loves her "granoli" and wanted to make it as her first episode of her new online cooking show "Vivi's Kitchen". You can watch her Vivi Granoli video here and find her recipe below.
The best part about making granola is that measurement is rarely required. I just throw in different amounts based on what I have on hand that day and how much I want to make. Homemade granola is a great first step into living an unprocessed life in the kitchen.
Vivi Granoli (Homemade Granola)
Ingredients
Organic Oats

Unrefined Sea Salt

Walnuts

Pistachios

Almonds

Cashews

Sunflower Seeds

Raisins

Cranberries

Dates

chopped

Raw Organic Honey

Organic Molasses

Almond Extract

Vanilla Extract

Shredded Unsweetened Coconut

Virgin Coconut Oil

Grass Fed Butter

melted
Instructions
The amounts of all the ingredients is completely up to you- but remember that the oats are the number one ingredient as far as quantity goes. Just make sure that all the dry ingredients are coated with the honey/molasses/coconut oil and butter. I prefer to bake the mixture first without the added berries or shredded coconut as both have a tendency to burn. So bake the first batch for about 15 minutes at 350 degrees. Then stir in the remaining ingredients and bake for another 10 minutes. Remove from the oven and let cool completely. Store in an airtight container and enjoy with milk or add to a nut butter and make a granola bar.